Boxing Returning To The Boxing Capital of The World
After nearly four months of going without sports due to the ongoing Covid-19 epidemic, there is now a light at the end of the tunnel to which the sporting world is slowly coming back to life. After coming to a unanimous decision, the Nevada Athletic Commission allowed UFC fights and boxing matches in Las Vegas to resume with the condition of not having a live audience.
Top Rank Upcoming Boxing Matches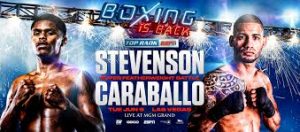 Ready to get matches to roll out, Bob Arum from Top Rank has been lining up fights throughout June to get the momentum back to how it was back in March before the lockdown. In order for promoters to be able to resume fights, they have to comply with the new safety regulations that are in place to keep the teams and athletes safe.
In a statement to ESPN Bob Arum said, "This is a sensible way to push ahead. Hopefully, the fights will be good–I know they will be–but you've got to make sure all the procedures are safe and so forth. Hopefully, what we're doing will serve as a template for other promoters to put on shows."
The upcoming fights that will take place under Top Rank will be as follows.
June 9: Shakur Stevenson (13-0) vs. Felix Carabillo (13-1-2) 7pm
June 9: Mikaela Mayer (12-0) vs. Helen Joseph (17-4-2) 4pm
June 11: Jessie Magdaleno (27-1) vs. Yenifel Vicente (36-4-2) 7pm
June 11: Adam Lopez (13-2) vs. Luis Coria (12-2) 4pm
June 16: Joshua Greer Jr. (22-1-1) vs. Mike Plania (23-1) TBA
June 16: Giovanni Santillan (25-0) vs. Antonio Demarco (33-8-1) TBA
June 18: Jose Pedraza (26-3) vs. Mikkel LesPierre (22-1-1) TBA
June 18: Gabe Flores Jr. (17-0) vs. Josec Ruiz (21-2-3) TBA
June 23: Andrew Moloney (21-0) vs. Joshua Franco (16-1-2) TBA
June 23: Christopher Diaz (25-2) vs. Jason Sanchez (15-1) TBA
UFC Upcoming Matches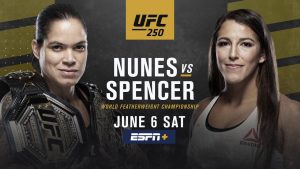 UFC is also getting ready to give fans what they have been missing for the past couple of months by lining up some great matches that will make fight night more memorable especially since it has returned back to the fighting capital of the world. The first UFC Fight night took place on May 30 with a total of 11 cards, but with no audience at UFC's APEX facility.
The next upcoming Fight Night is meant to take place on June 6 at 7pm, with highly anticipated Amanda Nunes facing Felicia Spencer with ten other cards in that night's lineup.
Although, it may seem that there are only a few matches that are prepared this is only the beginning. If the new regulations to keep the fighters safe proves to be working, then it could potentially lead to more Boxing promoters returning to Las Vegas to bring fans the enjoyment of watching their fighters once again, even if it is only in the comfort of their own home. Now the part that will be interesting to watch during these matches is seeing if these fighters are returning with that extra boost of energy and strength from being out of the ring competitively and having extra time to be training.
-By Ulises Rodriguez