Panthers Island Brewing Company:
A family owned and operated microbrewery located on the banks of the Trinity River in Fort Worth, TX. Their signature and most popular brew is the Allergeez. The Allergeez is an American wheat ale with a hint of honey and spices. This signature brew has won best brewery at the inaugural Fort Worth Food. The atmosphere of the brewery is casual and relaxing. There is always a great deal on beers and it is a great place to watch a game with friends.
Pantherislandbrewing.com • 501 N. Main St, Fort Worth, TX 76164 • 817.882.8121.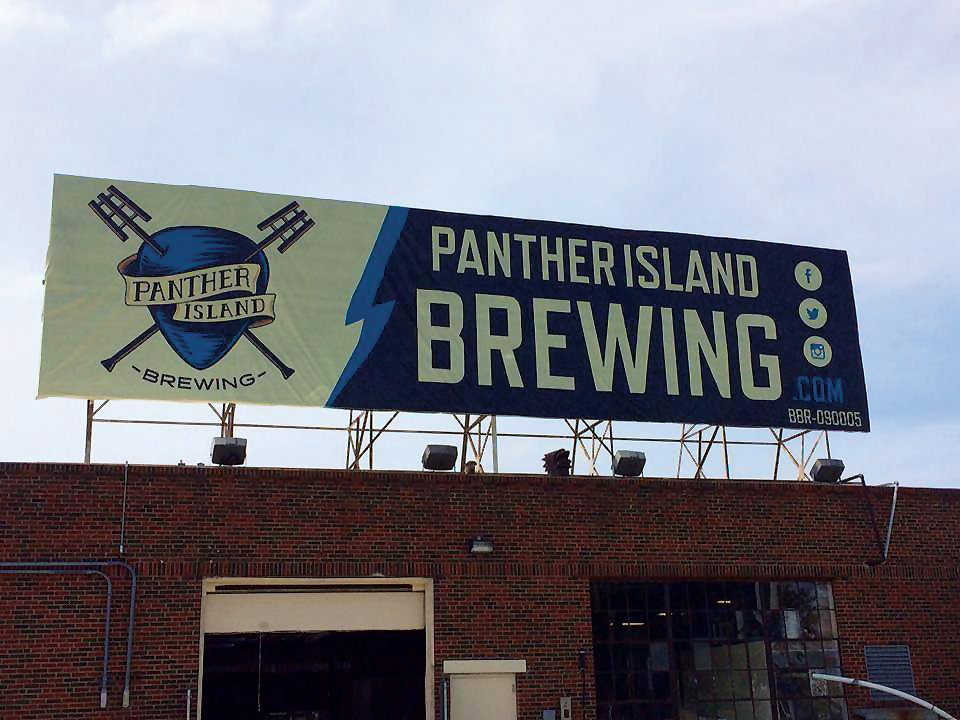 Deep Ellum Brewing Company
This brewery is a great place to grab a beer and hang out with friends and family. This location has an outdoor grass area where you can hang out, play games, and even let your dogs roam around. They have great IPAs and home brew concoctions for all your taste buds. Their Dreamcrusher IPA and their seasonal Cherry Chocolate Double Brown Stout are incredible. Another great thing about this brewery is that they have great food and on certain days they have live music and food trucks on site.
Deepellumbrewing.com • 2823 ST Louis St, Dallas, TX 75226 • 214.888.3322.
Community Beer Company
This year Community Beer Company is celebrating their 5-year Anniversary. This is a microbrewery that features a selection of classic and seasonal brews. When purchasing tickets to this Brewery you get s guided tour and sample of their diverse beer selection. Their most famous drink is their award winning English-style Public Ale. The location also features live music and food trucks that sell delicious food. For those with kids and pets this location welcomes them with open arms and another great thing about this location is that they have plenty of parking.
Communitybeer.com• 1530 Inspiration Dr, Dallas, TX 75207 • 214.751.7921.
Four Corners Brewing
Now at a new location this popular brewery is still one of the most talked about brewery. The awesome atmosphere and friendly staff help make this location well known. Four Corners Brewing offers free touts on certain dates and times, reserving a spot online is highly recommended. Two of their most popular drinks are the Local Buzz blond ale and the El Chingon IPA. This new location also features a new kitchen that makes it possible for this place to create great sharable and individual food.
Fcbrewing.com• 1311 S. Ervay St, Dallas, TX 75215 • 214.748.2739.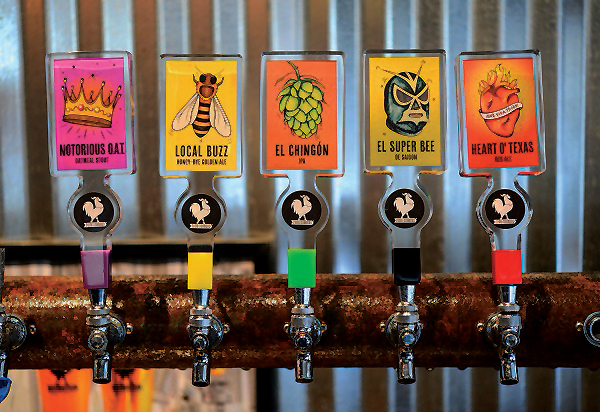 Peticolas Brewing Company
When you go take a tour of the Peticolas Brewing Company you will receive a limited number of free samples. Try their award-winning Velvet Hammer, the Velvet Hammer is a 9 Percent ABV imperial red ale that goes down smooth in both the winter and summer, it has a malty caramel base with just enough of hoppy bite. You can also get their two other year round brews or try their seasonal beers. Food trucks and live music are often found here.
Peticolasbrewing.com •2026 Farrington St. Dallas, TX 75207 • 214.234.7600.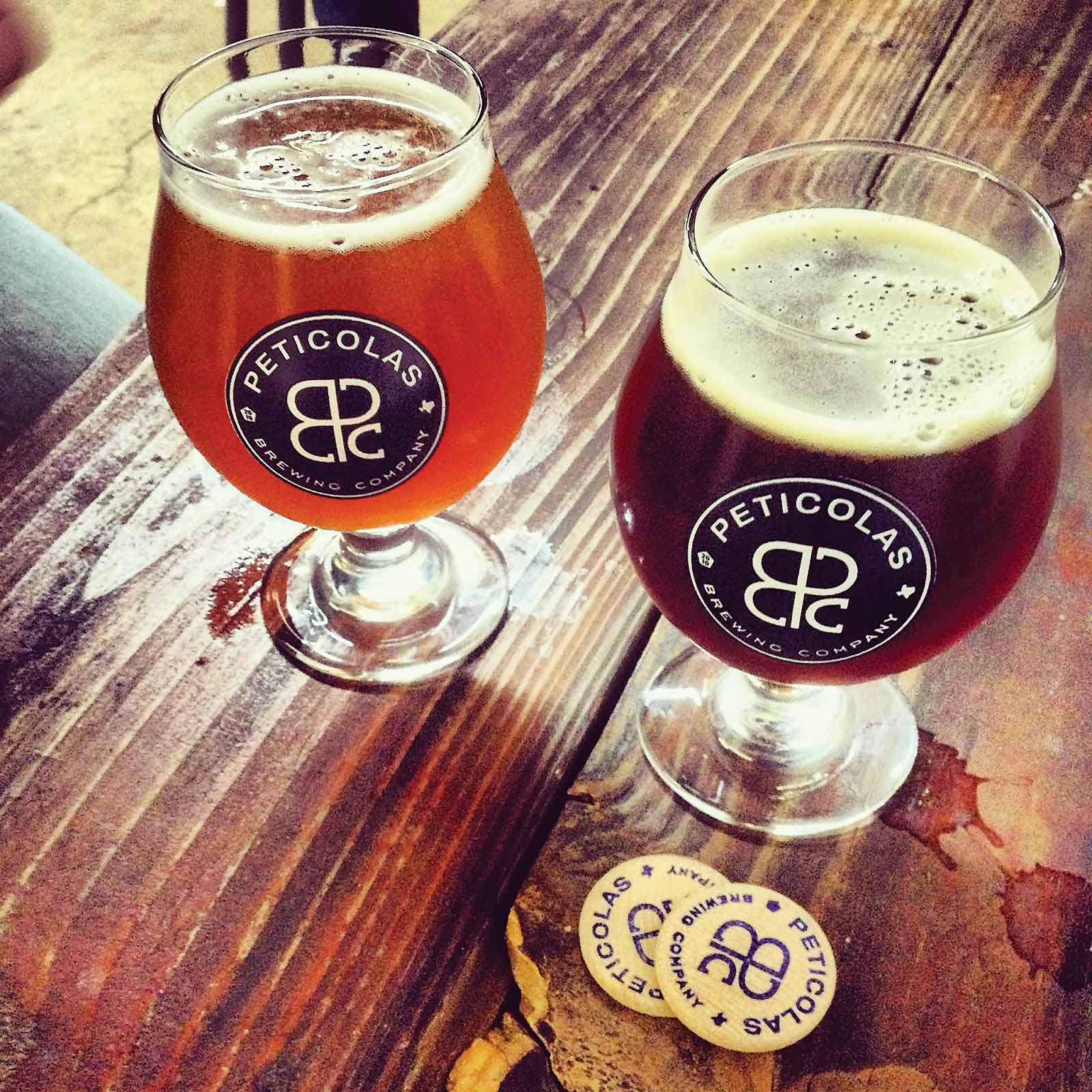 Noble Rey Brewing Company
This brewery in the Design District let's brew lovers sip on beers, ciders and meads from up to 26 taps. One of the most popular menu items is their Eagle Tear's beverage as well as their Peanut Butter and Jealous brew. Noble Rey Brewing Company has a cozy atmosphere with arcade machines and retro video games. The house beverages include ales and a savory golden wit. This location features live music nights.
Noblereybrewing.com • 2636 Farrington St Dallas, TX 75207 • 972.677.7612.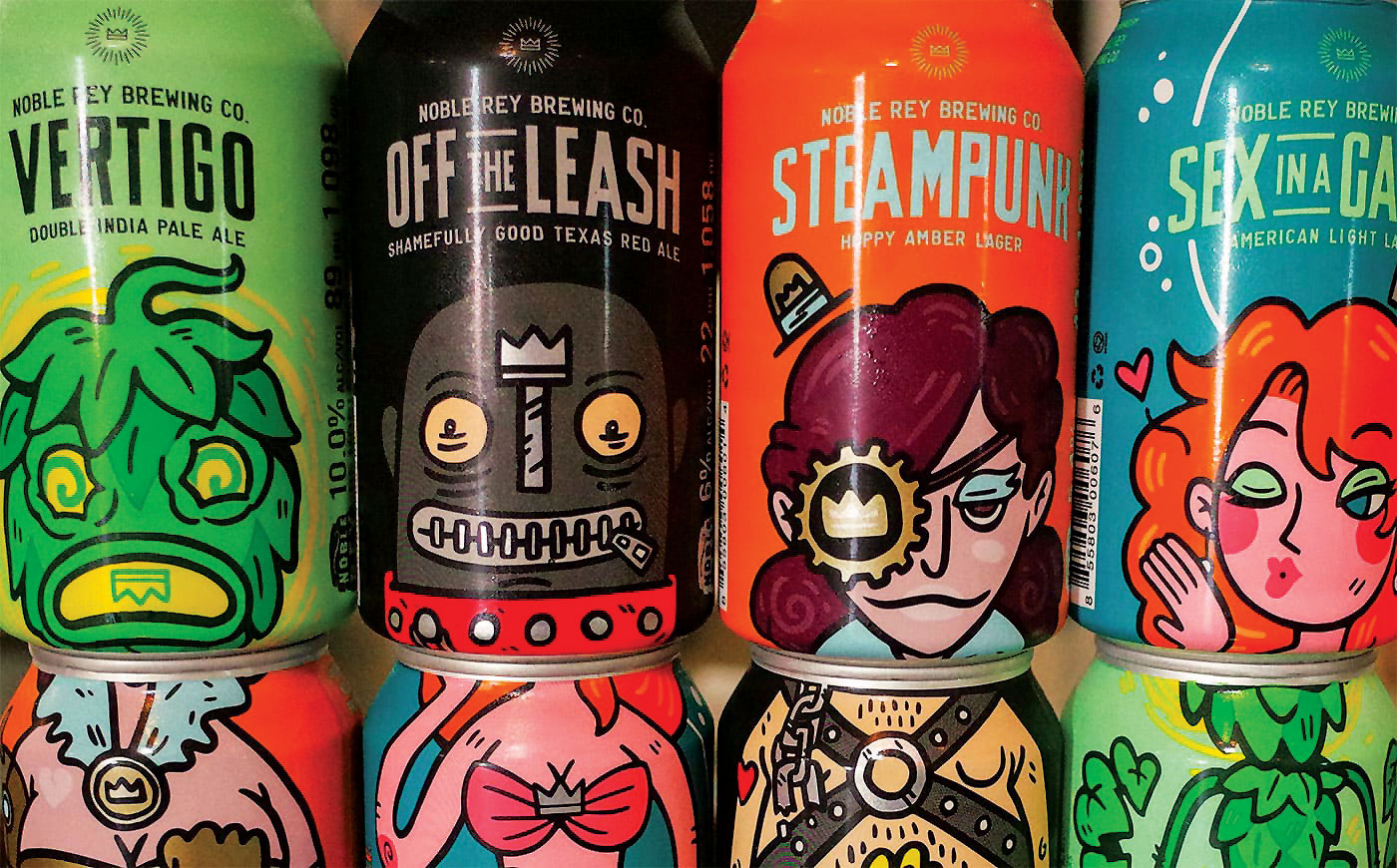 Bishop Cider Company
Bishop Cider Company produces interesting and balanced ciders. This location offers more than three-dozen types of international and domestic hard cider in bottle, cans and on draft. One of their most interesting is the Cideways, which is brewed with Cascade hops and lemon grass. The OC Funk is a great sour drink for those with a high tolerance of sour or just like that kick. But their most popular item is the Cinnamango.
Bishopcider.com• 509 N Bishop Ave, Dallas, TX 75208 • 214.354.7728.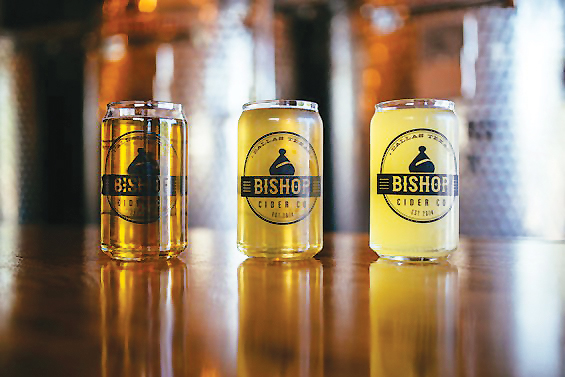 Braindead Brewing
This brewpub is a great place for people who enjoy both great meals and great beer. This location has a prominent amount of local beers on tap as well as a good deal of their own house brews. They have Gritz Cream Ale that goes down smoothly. For those who are looking want to start off light their India Red Ale is the best bet. Braindead Brewing has a casual and relaxing atmosphere, as well as they are also dog friendly.
Braindeadbrewing.com • 2625 Main St, Dallas, TX 75226 • 214.749.0600.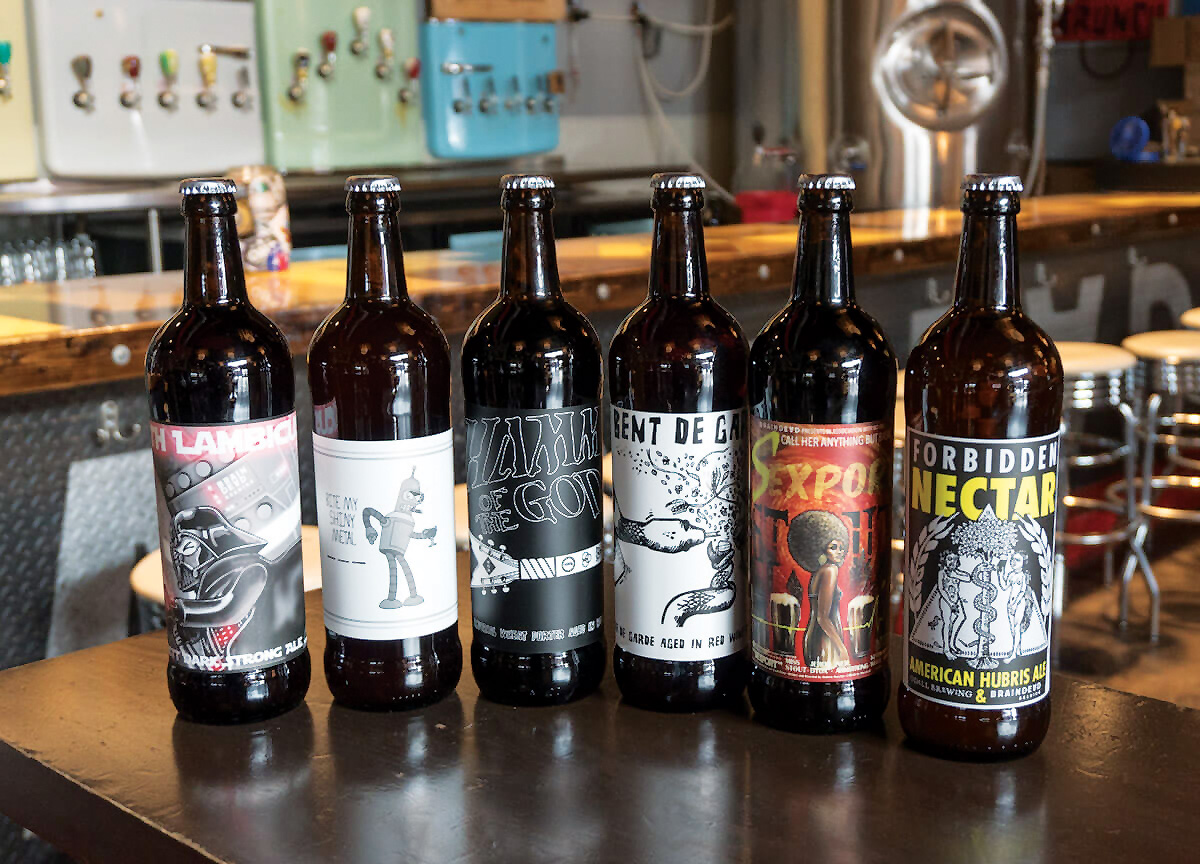 Oak Highland Brewery
Oak Highland Brewery offers great beers at incredible prices. OHB, as the locals call it, is spacious for those who want to drink in a large group. Aside from their amazing beers that they offer this place is also has great food. On most days, food trucks will be at this spot selling their delicious meals to pair with your IPA or malts. On Saturdays this spot is well known for having Barbeque tucks. Try their popular drinks the DFDub and the Freaky Deaky.
Oakhighlandbrewery.com•10484 Brockwood Rd, Dallas, TX 75238 • 469.802.9455.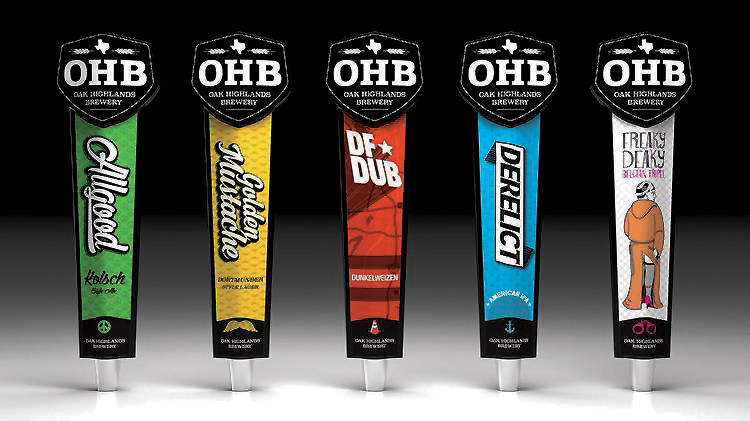 The Collective Brewing Project
This is a unique location because it is ½ brewery and ½ taproom. An excellent place to hang out with friendly family and even coworkers, the ambience of this farm style location is incredible. Try their Tropic Thunder, which is dry hopped with sensational green tea that is light and crisp. Or their famous Petite Golden Sour, which is a low-ABV beer, brewed with Brettanomyces to give it that sour kick. Aside from their beers they also offer tasty meals and at times have food trucks come to the location.
Collectivebew.com• 112 St Louis Ave, Fort Worth, TX 76104 • 817.708.1914.