Baseball's Astounding Lone Ranger: Joey Gallo
Joey Gallo is fairly new to Major League Baseball, but his newness doesn't sell him short of his talents on the field. The 25-year old Nevada native has already made a profound impact on baseball fans nationwide, marking his place in the hearts of many die-hard ballpark fanatics.
Playing Baseball At A Young Age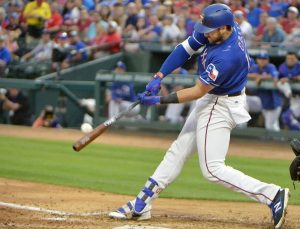 Joseph Nicolas Gallo, born November 19, 1993 in Henderson, Nevada, is an up-and-coming third baseman. Raised in Las Vegas, Nevada, Gallo attended Bishop Gorman High School and was named the Nevada Gatorade Baseball Player of the Year and a High School All-American by media outlets such as MaxPreps, ESPNHS and USA Today. His talents on the field, such as hitting 67 career home runs in 446 at bats, got him national attention and he received a letter of intent from the illustrious Louisiana State University where he was offered an opportunity to play college baseball for the LSU Tigers.
A League of His Own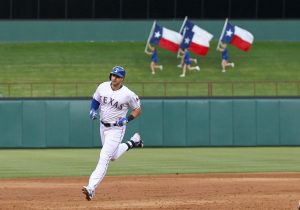 Although getting accepted into Louisiana State University to play baseball, Gallo rejected the offer. Opportunity came knocking at Gallo's door when the Texas Rangers selected him in the first round pick. Gallo gained a signing bonus of $2.25 million in the process. He started his professional career fresh out of high school with the Arizona League rangers, hitting .293/.435/.733 with 18 home runs and 52 runs batted in at 150 at bats over 43 games. Because of this astronomical feat, Gallo was the Arizona League's MVP. He also was duly noted as the 10th best prospect according to the sports magazine, Baseball Magazine. Gallo made history in 2013 by becoming the first teenager since Dick Simpson's 1962 season with the Los Angeles Angels to hit 40 homeruns in a minor league season, thus winning him the Joe Bauman Home Run Award. This award qualified him as a player that hit more homeruns than any other minor league player for the year 2013. 2014 proved to be just as much of an accomplishment year for Gallo as the year before. He had a stint with the Myrtle Beach Pelicans, batting .323/.463/.735 and leading the league with 21 home runs, even striking out 64 times in the process. This gained Gallo the Carolina League MVP title as well as being named a Mid-Season All Star and a Post-Season All Star.
Making it to the Big Leagues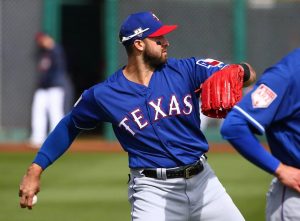 In 2015, the Rangers promoted Gallo to the major leagues where he hit his first major league home run and drove in 4 runs, gaining a golden Sombrero, which was a huge accomplishment to be so new in his career. In the majors in 2015, Gallo batted .204/.301/.417 with 6 home runs and 57 strikeouts in 108 at bats. Gallo shifted back and forth between the major and minor leagues and appeared in only 17 games during the 2016 season, while playing the rest of the time in Round Rock, batting .240/.367/.529 with 25 home runs and 150 strikeouts in 359 at bats. The major and minor switching concluded in 2017 when Gallo earned a roster spot on the Texas Rangers and he played multiple positions, such as a third baseman and a pitcher. His stats for the 2017 season were a batting average of .209/.333/.537 with 196 strikeouts, 11.0 at bats per home run, 41 home runs, and 80 RBIs in 449 at bats. One of the most notable moments of Gallo's 2017 season was when he hit the third-longest home run in MLB, which was at 490 feet. He also had one of the highest fly ball percentages of 2017.
Even though he is a newcomer in the baseball league, Gallo's skills and accomplishments thus far has earned him a position on the major league's field that has paved the way to help other rookies. As of 2019, Gallo has a batting average of .205 with 92 home runs and 198 RBI's. This is sure what the Texas Rangers need for the 2019 season and looking forward to watching them!
– By Tristin Taylor