A One-on-One With Leo "Terremoto" Santa Cruz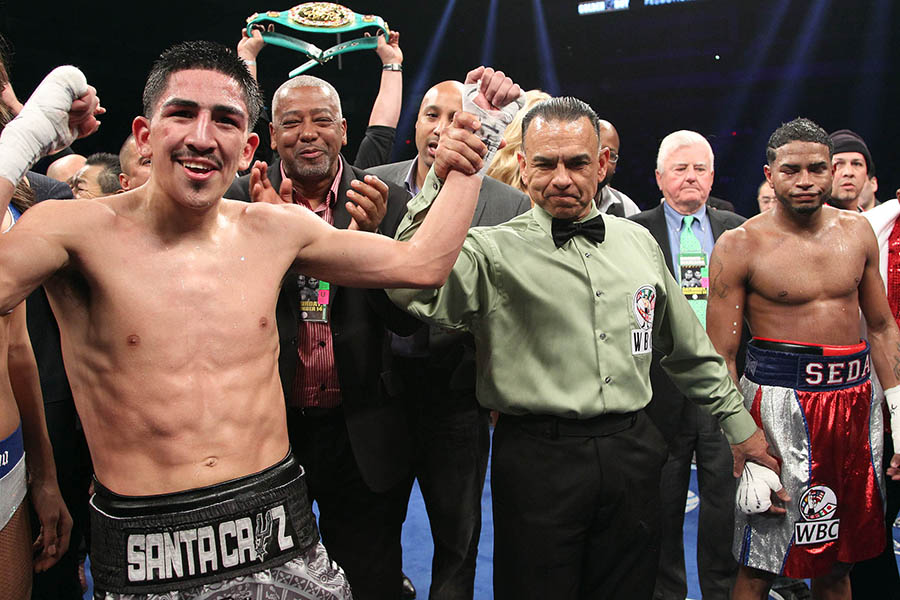 Leodegario Santa Cruz, nicknamed "Terremoto," is an up and coming Mexican professional boxer that has proven himself as an undefeated champion. He claims the titles of the former IBF World Bantamweight, and the current WBC World Super Bantamweight Champion. At just 15 years old, he had an amateur record of 148-7, and won a gold medal at the World Amateur Championships. To add to his outstanding record, on October 21, 2010, Santa Cruz beat veteran James Owens at the Martin's Valley Mansion in Cockeysville, Maryland. One year later, in March 2011, he continued his stride by knocking out veteran Stephane Jamoye, and won the vacant WBC Youth World Bantamweight Championship.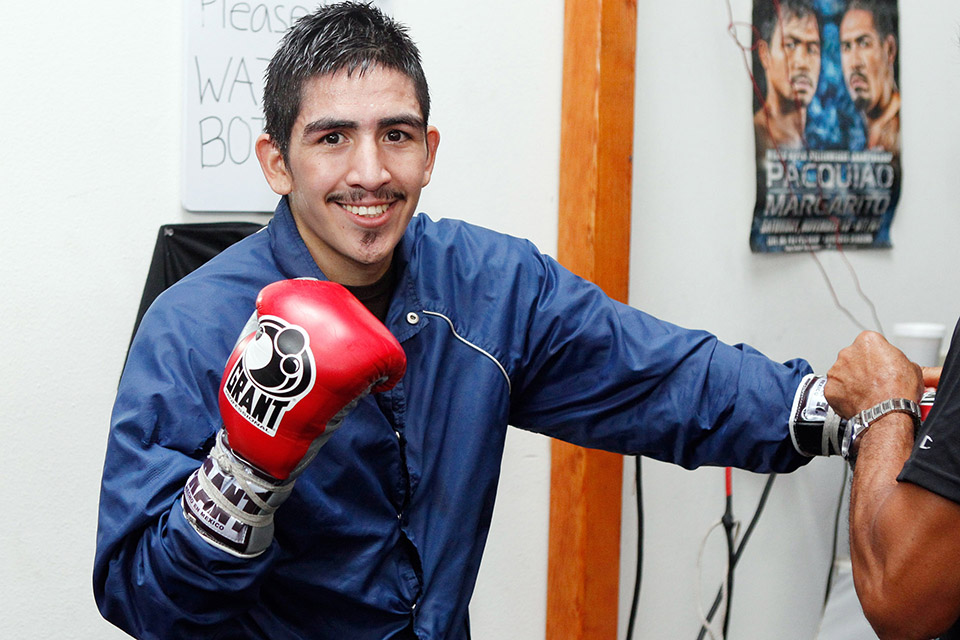 On June 2, 2012, Santa Cruz would beat Africa's Vusi Malinga to win the IBF World Bantamweight Championship. Defending his streak, he would beat Morel, Zaleta, and Guevara to finish his 2012-year with 5 total wins including 3 title defenses. This past year, on February 12, 2013, Santa Cruz put aside his IBF bantamweight belt to move up to the title of junior featherweight. Through a third round technical knockout, on August 24, 2013, he beat continuous titleholder Victor Terrazas to win the WBC World Super Bantamweight Championship.
"I wanted to be different. Growing up I struggled. I wanted to change my life to ensure a better future and not suffer. I wanted a better life," he commented to Uppercut's Publisher, Jesus Jimenez. Leo Santa Cruz is originally from Michoacán, Mexico, but grew up in La Puente, CA.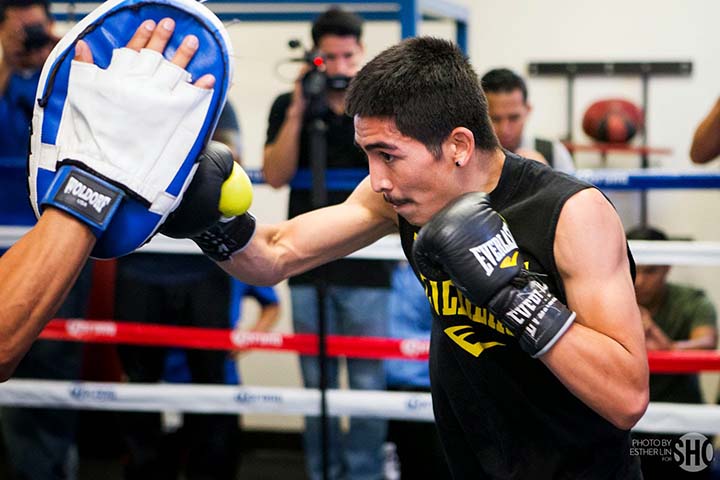 Celebrating his 26th birthday recently on Sunday, August 10th, 2014, Leo Santa Cruz has become a beacon of hope in the boxing arena. We at GG were fortunate enough to sit and talk with Leo, asking him more about his style of boxing, who he looks up to most, and just find out more about the man himself.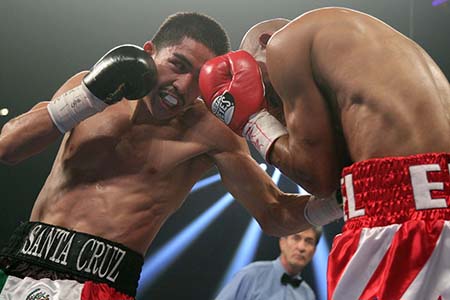 GG: Which lightweight fighters greats do you compare yourself to?
LS: I believe and so does my dad that watches me say that my style and body shots best represents Julio Cesar Chavez. I can also compare myself to both Alexis Arquello and Salvador Sanchez.
GG: As a lightweight fighter, what makes you great? Why is Leo on top of world?
LS: Thanks to the fans, and thanks to the teachings of my dad to work hard. I give many thanks to my fans and followers.
GG: After you clean up your division/weight class, what would you like to do?
LS: Currently I am at 126 lbs. I would like to try move up in weight class, 130, then 135, and then 140. I think I would fit comfortably in the 135-weight class. I can easily go up and down in weight class. Even down to 123, is fine.
GG: Whom do you want to fight next?
LS: It depends on whom the fans want. They want me to fight against Scott Quigg, Kiko Martinez, and even Guillermo Rigodeux.
GG: I know it was just your Birthday, Happy Birthday. Tell me something your fans don't know about you as the boxer and as a person.
LS: As a fighter- I am humble. I try to be the same guy all the time and not let fame get the best of me. I also enjoy helping out the lest fortunate and try to be the best I can be.
GG: Looking back 20 years from now, how would you want to be remembered?
LS: Like the legends Oscar De la Hoya and Julio Cesar Chavez, I want to be remembered as a 'True Mexican Warrior" and be part of the Boxing Hall of Fame.
A few words from his Father and Trainer Jose Santa Cruz:
GG: Whose style best represents Leo?
JS: I would have to say that Leo has a bit of Julio Cesar Chavez, Oscar De la Hoya and even Danny "Little Red" Lopez' style.
GG: As his trainer and father, how have you prepared Leo for his boxing career that has turned out to be successful?
JS: I always knew Leo was a good boxer since he was a child. I also think that my upbringing has helped him, I taught him to humble and to always be himself, a person with a good heart and full of pride. As a trainer, I look at different fighting styles from Mayweather to Pacquiao and get the best techniques for Leo.
GG: How do you see Leo's upcoming fight against Manuel Roman on September 13th match turn out?
JS: It will probably be a challenge for the first 3 Rounds, but as the fight continues, Leo will withstand and end up winning.
With his father, Jose Santa Cruz, training him, you know Leo Santa Cruz will be ready for just about anything and anyone who comes along to try to take his championship title away. You can catch the intense action at the upcoming fight for Leo Santa Cruz vs. Manuel Roman in the Mayweather-Maidana undercard match broadcasted from the MGM Grand in Las Vegas on September 13, 2014.
– By Jesus Jimenez