Superfight of the Century: "Canelo" Versus "Triple G"
Don't do it.
Just don't. Don't let the media coverage surrounding the McGregor-Mayweather fight scheduled for August 26 of this year distract you from the most eagerly anticipated superfight of all time taking place three weeks later in the same arena, the T-Mobile Arena in Las Vegas, Nevada.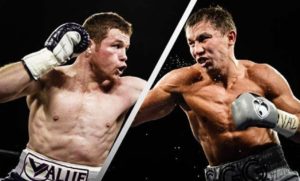 The Fight We've All Been Waiting For
The superfight of the century is the most highly anticipated professional boxing match, possibly ever. Canelo and Triple G will be fighting for boxing supremacy as well as for the WBA, WBC, IBF, The Ring magazine and lineal middleweight championship of the world. So it's fair to say there are more than just bragging rights on the line. The bout is scheduled to take place weeks after the spectacle that is the Conor McGregor and Floyd Mayweather fight in Las Vegas on September 16.
The fight we have all been waiting for came to fruition after Canelo beat Julio Cesar Chavez Jr. and immediately announced that his next bout would be between him and Gennady Golovkin. Through a translator, Canelo told Triple G, "Golovkin, you are next, my friend. The fight is done. I've never feared anyone, since I was 15 fighting as a professional. When I was born, fear was gone." Golovkin, who had previously stated that he would not be attending the fight, responded by saying, "I feel very excited. Right now is a different story. In September, it will be a different style—a big drama show. I'm ready. Tonight, first congrats to Canelo and his team. Right now, I think everyone is excited for September. Canelo looked very good tonight, and 100 percent he is the biggest challenge of my career. Good luck to Canelo in September."
Needless to say, both boxers seem mentally and physically ready for this fight.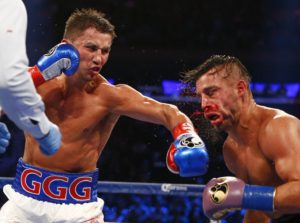 Canelo Came, Saw, Conquered
Santos Saúl Álvarez Barragán (49-1-1, 34 KOs) is a three-time world champion in two weight classes and has held the Ring magazine middleweight title for two years. In recent months, Saúl has been ranked as the best pound-for-pound boxer in the world. Born in Guadalajara, Jalisco, Saúl is the youngest of seven brothers who all became professional boxers as well. He started boxing at the tender age of 13 and won the silver medal at the Junior Mexican National Boxing Championship in 2005 before turning professional that same year. Saúl, who was affectionately nicknamed "Canelo" by his massive Mexican fan base due to his cinnamon colored hair, will go 12 rounds, or less, with the undefeated Kazakh boxer, Gennady "Triple G" Golovkin (37-0, 33 KOs), on September 16, 2017 with the Middleweight Championship of the World belt on the line.
Canelo is back training in San Diego with trainer Eddy Reynoso and his father Jose Reynoso overseeing the training camp. Canelo commented on his training approach for this fight by saying, "Usually training is almost always the same, but the strategy is different because every fighter is different," and, "The strategy depends on the fight. While you're preparing for a fight, you don't know what happens once you're in the ring." Their opposing fighting styles should lead to an incredibly fun fight to watch, with Canelo sporting his countering-style fighting and Triple G pressuring forward in the ring.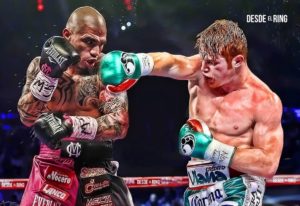 More Than a Fight; "This is War"
Gennady's camp is no slouch either though. Golovkin ventures up to Big Bear, California with trainer Abel Sanchez to take advantage of the high-altitude training. Golovkin commented on his trainer's approach to this fight by saying, "Abel has new ideas for this fight, exciting ideas, and I need to be my best to perform in the ring," and, "I don't care about pound for pound. This is real. This is about being the champion of the world." It's that tenacity that has allowed Golovkin to defend his middleweight crown 18 times since becoming champion seven years ago. Sanchez sees how badly Golovkin wants this win. He commented on this when he said, "The most difficult thing to do with Gennady is to hold him back. Starting slowly is just not in this vocabulary," and, "Gennady has wanted this fight for so long. I can already tell he is going to pull out all the stops in this training camp to be at his best on September 16. This is war."
Gennady Gennadyevich Golovkin, eight years Canelo's senior, is a Kazakhstani professional boxer who currently holds four titles of his own and has also been called the world's best boxer by various boxing magazines. Golovkin shot to the spotlight after winning his first major world title by defeating Milton Núñez in 2010. Triple G has been described as a calculated pressure fighter that is known for his powerful and precision punches as well as his balance and methodical movement. He also boasted a 23-knockout streak that spanned from 2008 to 2017 and hold the highest knockout percentage in middleweight championship history with 89.8 percent. In a total of 387 fights, professional and amateur, Triple G has never once been knocked down nor knocked out due to having what many consider the best chin in boxing.
After outpointing Danny Jacobs in his first fight to ever go the distance, the IBO/IBF/WBA/WBC Middleweight World Champion Triple G has been deemed a moderate favorite by odds makers in this fight of the century over Canelo, and for good reason. Triple G puts the fear of God into his opponents with his thunderous punches that have the ability to open up even the tightest defenders. He features an immense amount of variety in his attack and his brilliant footwork allows him to judge distance better than just about anyone and control the ring, whether you like it or not.
The lineal Middleweight World Champion Canelo attributes his heart, will and durability to his Mexican heritage and it is this heritage that allows him to fight without letting a thing rattle his cage and make him lose his composure. As the match goes on into later rounds you will never see Canelo's body language change and he's able to fight defensively for long stretches. We'll see if that's enough to fend off the haymakers that will surely be coming his way from Triple G. Canelo's one-punch knockout power is something in his arsenal that he's extremely proud of and he loves to remind the media that more than 75 percent of his fights have ended via knockout.
It's fair to say that though these two competitors respect each other neither of them have any intention on allowing the judges to make the decision for them.
With Canelo's only two non-wins coming at an early phase of his impressive boxing career, I have to go with the "underdog" in this one. Triple G may have the notoriety, as one of the hardest middleweight punchers of all time but Canelo's fervor and passion will carry him through.
You know what the late, great Mark Twain said, "It's not the size of the dog in the fight, it's the size of the fight in the dog."
By Jerry Shumway